So, in between interviews and seminars, I took a few hours off to visit the San Diego Zoo, which I had heard housed some of these exceedingly rare Great Apes that had inspired my philosophy of pleasure. The bonobos have a nice big space at the SD Zoo, with plenty of foliage, a waterfall, a creek, trees to swing from and grass to roll around in. I arrived in mid-afternoon, and to my delight, found three bonobos (two females and a male) engaged in various forms of sexual activity, including deep kissing, oral sex, ear-tonguing, masturbation, even using a rubber ball as a sex toy.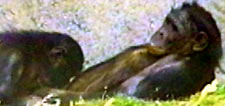 Bonobos Enjoy Oral Sex .. PHOTO: SUZY
That time, Lana, then age 17, bounded up to the glass partition between us, looked at me for a few seconds, blew me a quick kiss and went back to playing with her tribe. We met again in the summer of 2003, when she gave me the same sort of greeting, something I saw that she and some of the other bonobos did with many of the tourists, especially the children, who came by to gawk at them.
When I returned to Lana's domain on September 10, 2004, the situation was a little different. I was accompanied by some friends from France who were interested in learning more about The Bonobo Way. They had seen me doing a show, as well as conducting Bonobo Therapy with a couple, in which I helped them to open up to each other sensuously, playfully and empathetically, "freeing their inner bonobo."
Now they wanted to see some actual bonobos in action, so off we went to the Zoo. It was a sweltering So Cal September day. We got there early, as soon as the Zoo opened, but still the bonobos seemed overheated and lethargic, especially compared to how they were that first day I saw them in May 1996 when they were licking and sucking and pleasuring each other like bi chicks at a swing party.